Quality safety gloves
When working in environments where hazardous materials and chemicals are present it is important to protect one's hands. Quality safety gloves are a necessity in a multitude of industries and one should choose the right type of glove, depending on the hazards and environment in question. uvex has put emphasis on designing and manufacturing safety gloves that provide the wearer with a perfect fit, as well as ensuring that all gloves have the required protective class for their purpose.
Types of protection offered by safety gloves
Safety gloves can provide protection against a variety of environmental hazards. Each has its own merit and is suitable for different working environments. Some of the most important types of protection safety gloves one can find include:
Chemical Gloves
When working with chemicals, lubricants, and oils it is important to protect your hands. Any of these can cause extreme damage to your hands. It is, therefore, important to find safety hand gloves that are made to protect against a wide range of harmful chemicals, cooling lubricants, and oils. These materials will also provide the wearer with a high level of dexterity as it moves with the hand due to its stretchiness.
Cut Gloves
If your hands are in danger of being slashed, lacerated, or cut, a high-quality cut glove will protect you. Cut resistance is typically measured by determining the amount of force a sharp blade requires to cut through the material.
Abrasion Gloves
In environments where one is consistently exposed to the danger of abrasion, it is important to ensure that one minimises the risk of damaging one's hands. Abrasion-resistant safety gloves are typically tested by exposing the material to sandpaper under pressure. The number of cycles it takes for the material to form a hole will determine the strength of the glove and material.
Impact Gloves
If you are someone who is at risk of being exposed to high impact on your hands, then you are in need of impact gloves. They will be able to protect your hands from suffering major injuries due to a high-impact incident. Impact gloves would, for example, be perfect as mechanical gloves.
General-Purpose Gloves
It is advisable to invest in a pair of high-quality general-purpose gloves to protect your hands from everyday work. They will typically have a variety of protective qualities; however, they will not be exceptionally good at protecting from any one type of hazard.
When choosing protective gloves, it is important to check that they have been tested and adhere to high standards on an international level. All of the gloves offered by uvex have been rigorously tested and their quality assured.
The Protective Gloves Range
HexArmor® Rig Lizard
uvex athletic all-round
uvex unilite 6605
uvex athletic D5 XP
HexArmor® Helix® 3000
uvex u-chem 3200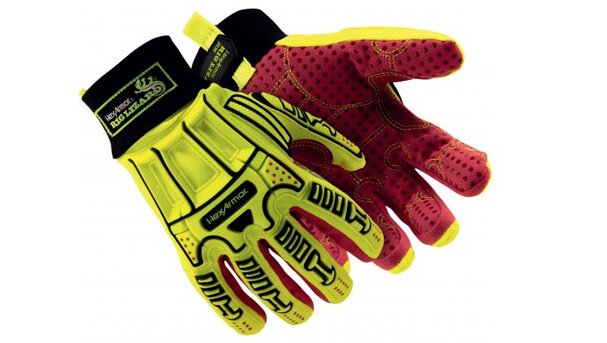 Impact-resistant glove HexArmor® Rig Lizard® Mup Grip+® 2038
Article number: 60681
Includes HexArmor's IR-X Impact Exsokeleton™ with high-flex design for sewn-on back-of-hand impact resistance
High durability for long-lasting protection
HI-vis color scheme
Certified 4X43BP according to EN 388:2016